MILO was transformed from a conventional field to an extreme adventure reserve of big game on open field and confinement. Within the reserve you can perform any type of hunting, either with a firearm or with the very interesting archery.
* Outside the mating season, the Selective Red Stag in any of the three combos, the hunting will be done in the open field, thus being 50% effective.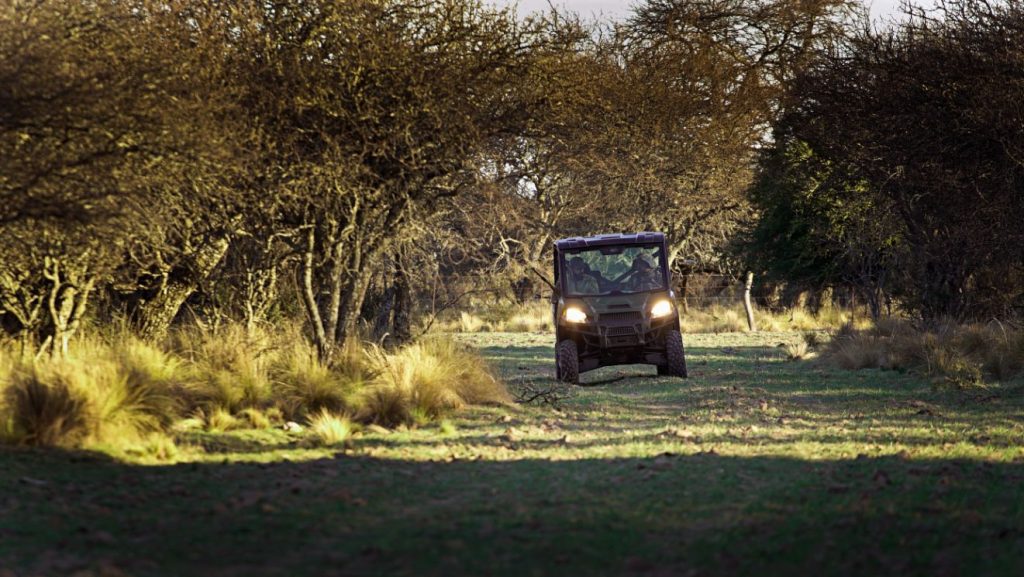 The Hunting Ranch is located west of the city of La Pampa, 70 km from Santa Rosa, on Route 14.
It has an area of 5,000 hectares, which are mostly covered with trees, shrubs and bushes.
The main house has a matchless panoramic view next to the lands full of vegetation of La Pampa.
 MILO Lodge  has 3 suite bedrooms and 1 bedroom with private bathroom, it provides accommodation for 9 people.
The rooms, designed to ensure your rest, are unique, exclusive and functional they have safety box, hair dryer and frigobar among other essential services for your stay.
In 350 square meters, we have a large living-dining room with wood-burning stoves, a living room with entertainment, a kitchen and breakfast area, hot and cold air conditioning in all rooms, electric light, satellite TV, Wi-Fi internet.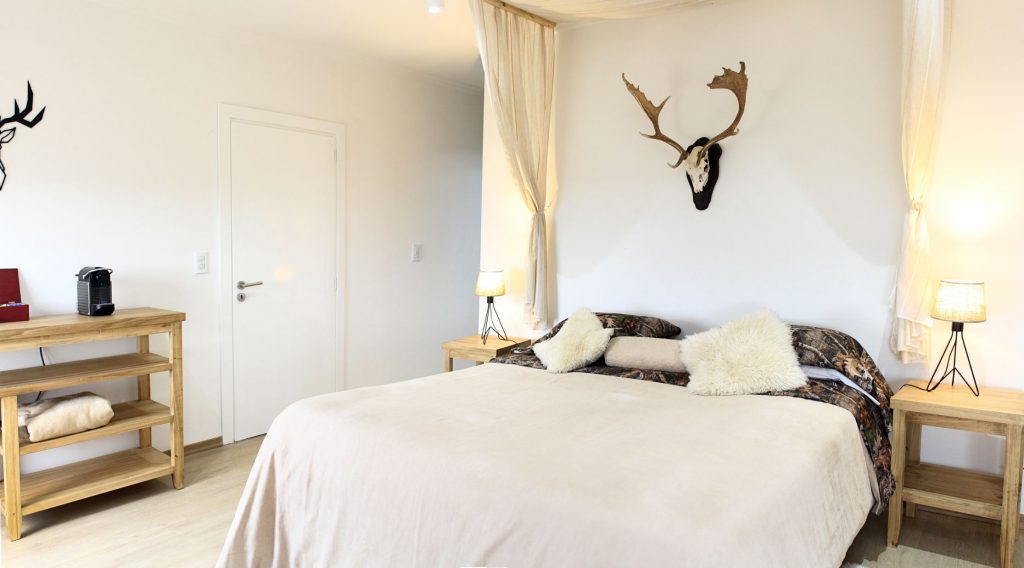 The guests will have a good organization for every time of the day, they will have 4 meals and snacks
Starting with a full breakfast where they can taste the typical croissants, homemade breads and jams, coffee, juices, and a variety of teas and seasonal fruits.
Typical dishes from the area will be offered, among which are the traditional Argentine Asado (barbecue) and Creole Empanadas. Also, exquisite hunting recipes will be offered so that the hunter can taste the best pieces of the different species obtained in the day, as well as handmade desserts and snacks at any time they want.
All inclusive
Open Bar:
Regional Wines, Beers, Mineral water, Soft drinks and Spirits.
A different adventure
For the companions, we offer an exclusive service of horseback riding, sighting of flora and fauna and 4×4 excursions.
Laundry and linen service
Transfer, Reception and transportation from Santa Rosa Airport to  MILO LODGE , 30 minutes by car.
We offer a 5:30 hour vehicle transfer service from Ezeiza International Airport or Jorge Newbery Airport. In case of choosing this option, consult prices
Consult for provision of weapons and ammunition
Required documentation:
Hunters need their passports, as well as documentation related to weapons and ammunition to be able to introduce them temporarily in Argentina; for this, the hunter must approach the nearest Argentine consulate or consult with his travel agent. Argentina does not require any special vaccination.
Exclusive tasting of the best whisky brands in the world. Always accompanied by an attractive proposal of regional cheeses and stews typical of the area.
An excellent option to enjoy the best boutique wines. Appreciate the qualities of the wine through a tasting accompanied by gourmet dishes to pair each of the proposed boutique wines.
A combination of regional and sophisticated cuisine to live a unique moment.
An experience designed by important Cheffs where we invite you to enjoy an unforgettable encounter.
Famous Cheff's will surprise us with their fires cooking live, sharing their anecdotes, life experiences and their passion for natural lifestyle
We propose an outdoor kitchen with embers and flames fanned by the Pampas wind, which rescues with excellence the essence of Argentine flavors.
We provide an exclusive service to arrive at the Lodge. Private air transport for more information consult us. Info@tresplumasoutfitters.com or Maria@tresplumasoutfitters.com